Pinky McLadybits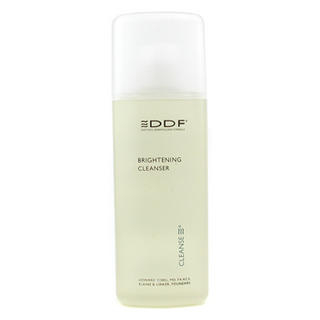 I have combination skin. That means that it can be oily while flaky, dry while having breakouts. It sucks. I blame using Sea Breeze in the late 80s and early 90s. Anyway, I have made
Birchbox
aware of this combination skin of mine, prompting them to send me this
DDF Brightening Cleanser
in my August box.
Let's point out the good parts about this product first, shall we? (Yes, I have a tiny Deadpool voice in my head, hence the we.) DDF Brightening Cleanser has a light, barely there scent that might be reminiscent of lemons or citrus, but it disappears too quickly for me to be sure. It also takes just a small, pea-sized amount of the possibly-citrus cleanser to lather up and wash my entire face. It also rinses off easily.
Sounds good so far, yes? Well.
DDF Brightening Cleanser
dried my skin out terribly. The back of the bottle cautions that it can be used twice daily unless irritation occurs. I'm lazy and I only used it once a day anyway. It still dried my face out so I decided to wait a couple of days. Upon using the DDF Brightening Cleanser, my face started to burn and turn bright red. I suppose it is a brightening cleanser in that respect...
My faithful
Kiehl's Abyssine Cream+
sample was obliterated in attempting to combat the dryness today and it didn't help at all. That's pretty bad. It hurt for about an hour. I should possibly mention that the back of the bottle also says that sun exposure can be a bad idea after using this, causing sunburn. I haven't been in the sun, preferring the shade and indoors to any place where there are bugs or outside smells. The car is the closest I've been to the sun, and even then we're talking less than an hour total.
The DDF Brightening Cleanser stinks. Avoid it if you are prone to dry skin, have sensitive skin, like to see sunshine, want your skin to actually have an even tone and brighter look, or like having a face.
Rating: 0/8 tentacles
You might also like: Lush Angels on Bare Skin, Made From Earth Lavender Calm Soap, Clinique Rinse-Off Makeup Remover, and Clean and Clear Makeup Dissolving Wipes.