Pinky McLadybits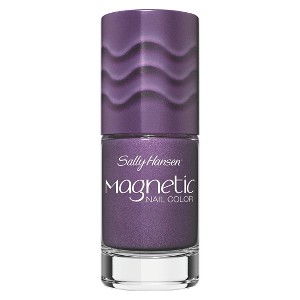 Full disclosure: I was selected by Influenster to receive a Summer Voxbox filled with products to review. I will be reviewing them whether I find them awesome or terrible.
It gave me all of the motivation I needed to remove my
previous polish
and start again while watching
Underworld: Rise of the Lycans
.
The directions tell you to apply a coat of the polish, let it dry, then apply a thick coat of polish and immediately hold the magnetic doodad over the nail for 10 seconds. Voila! Magical magnetic nail art! HOW DOES IT WORK?!?
Well, there are little metallic particles in the polish that react to the magnet in the cap. That's how, Shaggy 2 Dope.
As always, I began with my Ulta base coat and then applied the
Sally Hansen Magnetic Nail Color
. However, I skipped the Revlon Quick Dry Top Coat between coats this time. I didn't want to somehow mess up the little metallic particles. Which is probably an insane fear, which means it is extremely appropriate that I was the one to have said fear.
The first coat went on evenly and I tried to make sure it coated my nail without being too thick. I think Michael Sheen had his shirt off at this point in the movie, which is a good bet since he spends the entire movie shirtless. By the time he still had his shirt off, the first coat was dry. That was fast!
I made sure to get a nice, thick coat on my left thumbnail this time. Then I placed the magnet cap over my nail, with the curved rest on my cuticle. I counted to ten, removed the magnet, and had some two-toned wave things on my nail. Cute!
I repeated the process with each nail, accidentally pushing the magnet into wet polish once. I think I may have been distracted by shirtless Michael Sheen, but we can't be sure. I also had a couple of nails on my right hand that needed a second thick coat because the first one just wasn't good enough for that snooty Mr. Magnet to do his job properly.
I finished everything with the Revlon Top Coat and screeched in annoyance when the manicure started to chip the very next day. Bullshit. I'd like to say that I walked through a metal detector and the metallic particles were pulled from my nails, chipping the polish upon exit, but that shit ain't the truth. I wish it was, because it would have looked like this:
Oh, Sally Hansen, I wanted to like you. Unfortunately the less than stellar purple combined with less than the claimed 3D designs and the short wear time all combine to crush our friendship before it could start. Will I use the polish again? Um, yeah. It's here and I am physically unable to stop myself from using nail polish in my home, no matter how crappy it is. Will I like it? Not much. Boo-urns.
Rating: 2/8 tentacles
Let's check out some more polish reviews, shall we? OPI Blasted Nail Color, ULTA Nail Prints, Milani Nail Lacquer, and Color-Block Nails.