Pinky McLadybits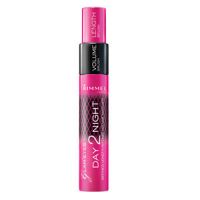 Mascara is usually the only makeup I'll wear for stretches of time. It's all very tied into my strong conviction that without some very black mascara on my lashes at all time, I look like I have no eyelashes. It makes for a weird ginger-albino kind of look.
So, I really go through mascaras. I think those of you that have read this site for any length of time probably noticed my near-constant state of trying out different mascaras. There are so many brands, sub-categories within the brands, and promises to be made by the mascaras. It gets crazy. However, I seem to have found a new favorite brand, replacing the old stand-by of Maybelline Great Lash (which stinks terribly and irritates my eyes now).
Rimmel London has amazing mascaras. You may remember such reviews as
Monocles Popping Everywhere!
and
Baby Got Back
. I have had much success with Rimmel mascaras, and the
Glam'Eyes Day 2 Night Mascara
is no exception.
So, what is the big hook that reels you in for this particular mascara? It gives you a lengthening and volumizing mascara in one convenient, hot pink tube. Other mascaras would have you believe that there is some magic formula that will give you the lashes you want, whether longer or thicker. Rimmel shows us that it isn't the brush or even the mascara formula that makes the difference, but the amount the brush picks up. You see, Day 2 Night is one tube with two different caps. One cap is to be loosened and used for length and the other for volume. After idiotically wondering how the two brushes fit into the normal-sized tube and whether there were two different wells of mascara inside, I realized that there is one brush and one formula. Removing the brush via the length cap removes more mascara than removing it via the volume cap.
Did I just BLOW YOUR MIND? No? Oh. On any account, let me show you what happens when you use the length vs volume caps:
Length on left, volume on right.
Now, my lashes are hella long regardless of mascara, but you can clearly see that the volume brush picks up and deposits more mascara on your lashes. The length is great for daily and then you can volume it up for fancy days. You can also change from length to volume easily, making the Day 2 Night portion of the mascara name more understandable.
Rimmel London Glam'Eyes Day 2 Night Mascara
doesn't irritate my eyes, make my lashes fall out, or make my lashes so crunchy that I cringe when I touch them. These are all great things. The only complaint is that, like all mascaras regardless of what they claim, there are clumps. You may not see the clumps the first few times you use it, but they will arrive. Trust me. Overall, this is a great and inexpensive mascara.
Rating: 7/8 tentacles