Pinky McLadybits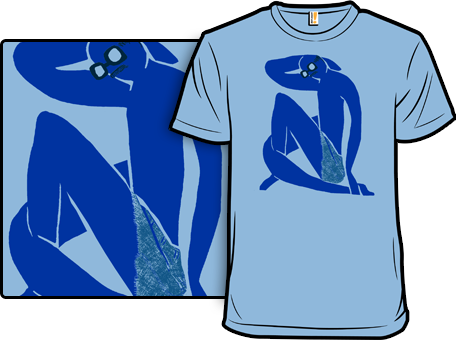 Woot!'s shirt of the day is this lovely creation on the left. It is called
Blue (Never)Nude
. You can wear it while you take a banger in the mouth! $10 and free shipping.
Old Navy
has 20% off your online purchase with code ONHOLIDAY. Today only!
Amazon
has the Lord of the Rings Trilogy on blu-ray for $49.99. Also, the Toy Story Trilogy (hee!) Ultimate Toy Box Collection for $49.99. IT COMES IN A LITTLE TOY BOX, YOU GUYS! Look under deal flurries.
Clarins
has free shipping on any order with code DECSHIP.
Kohl's
has 20% off everything, even clearance, with code CHEER20.
Sport Fanatic
has great deals on sports merchandise. Free shipping on orders over $100. Like
this
.
Jockey
has buy one get one free on men's boxers and women's Natural bottoms with code SANTA.
Land's End
has $40 off a $100 purchase and free shipping when you use COOKIES and the PIN 5113.
That Daily Deal
has down alternative comforters for $29.99 plus $7.99 shipping. There are 7 colors to choose from.