Pinky McLadybits
I am extremely disappointed with the horror movies available to me via Netflix and the three billion pay channels we have right now through Directv. Sure, I can watch some excellent horror on AMC or SyFy, but they are cut all to hell (and not in the slasher kind of way) and leave out the good bits. Plus, the good horror movies are elusive, leaving more room in the schedule for Pumpkinhead 45: We Hired Monosyllabic Landscapers As Actors. The REVENGE!
It's terrible.
I've decided to make a list of the movies I wish I could watch right now, but can't because of first world problems and not wanting to pay more money out than I already am to rent them. Ugh. Feel free to add your favorite scary movie in the comments.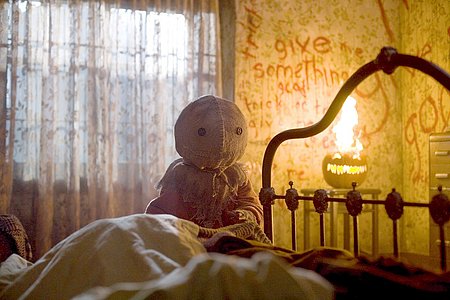 I wasn't sure what to make of this anthology of stories about Halloween the first time I watched it. I thought, "That's not really scary. Except for the school bus story." Then I watched it again. And again. And again. It was funny, yes, but it is also frightening.
Rob Payne
has an amazing piece on Pajiba about
Trick R Treat
being a classic on par with
A Christmas Story
. I just wish it was still available on Netflix Streaming.
I know, I know. I would argue that the first Saw movie was something we either hadn't seen before or hadn't seen in a while. It wasn't just a chase and slash. It was a choose your own deathventure. There have been so many sequels that I'm not sure if there are 5 or 6. I do know that I've seen all of the sequels more than I've seen the original. I have no idea why this is, but I want to watch the first one! It isn't on Netflix Streaming, free on Directv Cinema, or available through my local Redbox. Boo.
I own the first Final Destination. FD2 and FD5 have been playing at a steady clip on television. Of course I want to watch FD3 and I can't. I don't know why I enjoy this one so much. Is it Mary Elizabeth Winstead? The rollercoaster? The tanning beds? I have no idea. But I really want to watch it a couple of times and revel in the design Death has for this senior class.
No explanation needed.
If you thought you couldn't be frightened while watching a movie with subtitles, you were tragically mistaken. El Orfanato, aka The Orphanage, is beautifully acted, staged, and shot. It is also able to make you jump, clutch your blanket, and possibly squeal in terror.