Dixie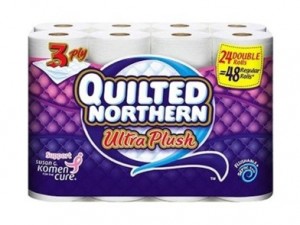 Toilet tissue is increasingly resembling the
Saturday Night Live razor sketch
- many ridiculous options that don't really mean a thing. Do I need the ultra roll or the mega? How about the big roll? Is that better for my butt? Well, now you have more options. When contemplating the best tissue for your tushie, now you have to choose between one-, two-, and three-ply.
Until my husband came home with a package of the
Quilted Northern Ultra-Plush Toilet Tissue
, I had only even seen one-ply and two-ply paper. Three-ply is just so ridiculous that I had to share here on Hot Ink.
And, you know, it's a good tissue. It doesn't fall apart, leave little rolled up bits on your bits, and it's soft and cushy. Other than the sheer craziness of an extra, and let's face it useless ply, I can find no reason not to recommend it. 6/8 tentacles, docking two tentacles for the crazy. You can find
Quilted Northern Ultra-Plush Toilet Tissue
for between $7 and $20, depending on package size, at most stores that sell home goods, such as Target, Wal-mart, and your local grocer.
Rating: 6/8 tentacles