Author: Metric Jenn
You guys know that I have curly hair, right? Well, I do. It is a pain in my ass, but I also kind of love it even though there are many days where I just don't want to be bothered with it at all. On those days I straighten my hair, but then I get annoyed by its complete lack of volume. I was recently complaining about this to my co-workers, when one of them mentioned this product:
Osis Dust It
by Schwarzkopf. She said that her hair dresser had used it on her. Another co-worker chimed in that she uses it on a fairly regular basis; and all of this prompted me to graciously accept the sample Co-Worker-Corey gave to me.
Having naturally curly hair is both a blessing and a curse. It takes a lot of work, but I have the fairly easy option of taking a straightener to it and after 45 minutes to an hour - WHOOPAH - straight hair. The down side? Like I said before the jump: It's poker straight with very little volume on top.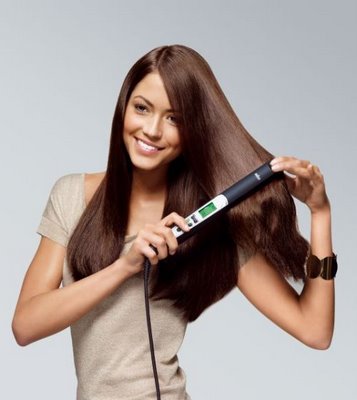 Kind of like this, but with red hair and fatter thighs.
Not to mention that my scalp gets really oily and itchy by the 12 hour mark.
Osis Dust It
remedies one of those two issues. This product comes in a salt shaker-like package, and the powder is so fine that it's difficult to control the amount that comes out. To use it, you apply it close to the scalp on a layer *under* the top layer of your hair. What do I mean by this? Using your natural part as a starting point, take a chunk of your hair on one side, and lift it up. Sprinkle the Dust It close to the scalp and rub it in mussing up your hair slightly as you go. The powder disappears and acts almost like a hairspray holding your hair up to add volume. When you drop the layer that you lifted up, you'll notice that your hair has been given lift.
Before and After
Osis Dust It has been touted as the secret of the hairstylists to the stars. I can see how it would be incredibly useful. And the price isn't too obscene (ranging from 4.95$ on
Amazon
to 8$ on other sites), which is nice. So as a volumizer, it does an excellent job...now if only it would also absorb the oil slick my scalp oozes after a long day at work. But that is a different issue for a different review! Stay on task, me. Final judgment - 7/8 tentacles. It loses one tentacle since it is hard to control the amount of product that comes out of the container and it only lasts for about 5-6 hours. It's more of a going-out hair product, and not an every day kind of thing for those of us with long hair.
Rating: 7/8 tentacles