Metric Jenn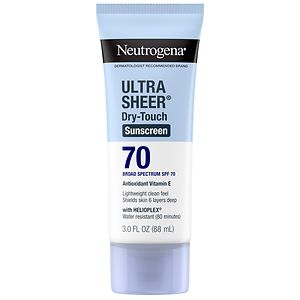 Ok, my peeps. Metric Jenn here to tell you about how protecting your skin from the ravages of the sun's rays is a good thing. And it is. That's why I'm all about purchasing good suntan lotions, sprays, and the like. So as I was prepping for yet another beach-day, and as I was grabbing snacks (cherry
twizzlers
are the bomb, yo!), I recalled that I was out of sun tan lotion specifically for my face. Yes, specifically for my face - I've got finicky skin (as I may have
mentioned before
). So I grabbed some
Neutrogena Ultra Sheer Face Sunscreen
SPF 45.
This product brags about offering protection from UVA/UVB rays, is oil-free, paba-free and non-greasy. It's waterproof and sweatproof, fragrance-free and gentle enough for sensitive skin. All of these things sound GREAT! I was really looking forward to being able to apply the sunscreen and not look like a monster that just emerged from an oil pit.
I applied the sunscreen as per the directions; applying it liberally 15 minutes before sun exposure (and I also re-applied throughout the day). It didn't feel as greasy as other lotions, so that was alright. As for being sweatproof...not so much - as I was sunbathing, I did perspire and it got into my eyes and holy mother! IT STUNG SO BAD! They even put a warning on the bottle about flushing your eyes out thoroughly if there is contact. My gripe is that they claim the lotion is sweatproof (which it is not) and then your sweat gets into your eyes. The stinging is virtually impossible to avoid.
Aside from the horrible stinging, the other bone I have to pick with Neutrogena is about the claim that there is '
helioplex
' technology in the lotion. This is just fancy label speak for a formula of lotion that doesn't degrade as rapidly as others. I feel like they made up this term just to be able to charge more and give people a false sense of security.
All in all, this product is a good one, if a bit on the pretentious side. It does what it claims, and as long as you reapply fairly regularly.
I got my bottle for $11.99, but I've seen it on amazon.com for as little as 7$. I'm kind of 'meh' about this product because I was expecting less grease.
Rating: 5/8 tentacles