Figgy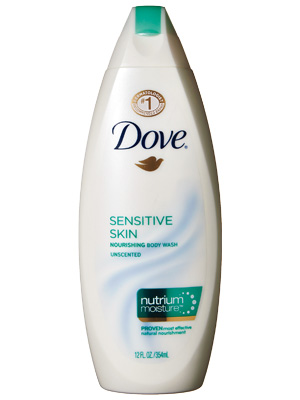 I think you all know by now of my undying love for
The Body Shop's bath gels
and their delicious smelling lathery goodness. But alas, I realized (when the last drops of my Shea Butter Gel disappeared, *sob*) that I really can't afford to throw $8 for a bath gel I love so much it disappears in 10 days. So I needed to find something that had: 1)a lot more product, 2) was reasonably priced and 3) was gentle enough to not make my extremly sensitive skin break out into rashes at the end of a shower.
After staring at the bath gel aisle at Target for what felt like 15 hours, I finally decided to go with what I knew (and was recommended by a Hot Inker!):
Dove Body Wash
. I picked out the Sensitive Skin version because it claimed to be soap-free, and took it home with me.
From the start, I really liked that the gel had a very soft, gentle fragrance. It's almost not there. It's got a very thick consistency and a little makes for a lot of rich lather, which I loved. Once I washed it off there was no icky feeling of residue and best of all, my skin didn't immediately feel dried up as it does with most body washes.
I've been using it for almost three weeks and it's almost gone, and I'm pretty damn sure that I'll be buying it again. It's never failed to make my skin feel wonderful, and I've yet to get any negative results when I use it. My only complaint (and I realize it's a little silly) is that for some reason the bottle is really hard, and squeezing out the wash becomes an annoying chore sometimes, especially as the wash runs out. It's stupid, I know. But still!
The
Dove Body Wash for Sensitive Skin
gets a happy and soft 8 out of 8 tentacles. It's reasonably priced for a HUGE bottle (I got it for $6 on sale), and worked really well on my very sensitive skin. The hardness of the bottle is a minus, but it doesn't affect the product itself.
Rating: 8/8 tentacles
Check out these body wash reviews: Alba Botanica's Coconut Milk Cream Body Wash, Soap and Glory's Righteous Butter, Bath and Body Works Stress Relief Body Wash, and Philosophy Gingerbread Girl 3-in1.