MelBivDevoe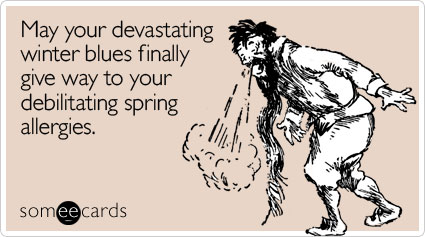 MelBiv here, trying my hand at serving up some tasty Hot Links for you. It's Wednesday - just a few more days until the weekend! Let these links be your guide today and help you while away the hours.
Spring is here! Celebrate the season with these frolicking lambs! (
Cute Overload
)
Nothing says "springtime" like flowers in bloom. Here's a lovely collection of photos in honor of the 100th anniversary of Washington, D.C.'s Cherry Blossom Festival going on now through April 27th. (
Washington Post
)
Need some new floral artwork to spruce up your home? Photographer Brendan Fitzpatrick has some gorgeous X-Ray photos of flowers for sale on his site. (
Brendan Fitzpatrick Photography
)
Unless you're just coming out of hibernation, you know that
The Hunger Games
movie opens in theaters tomorrow (yay!). In case you've not read the book (you really should), Vulture has compiled a list of the "25 F*cked Up Things in That Happen in
The Hunger Games
."
(
Vulture
)
Kids today may not have to deal with deadly competitions like the Hunger Games, but they do have to deal with a lot of problems arising from our ever-changing technology. A recent study shows ADHD rates have surged in the last ten years, and some scientists are blaming the Web. I think that they have a valid point, but -
OH, SQUIRREL
! (
Slate
)
Yet another way technology is changing our lives? Spring break isn't so wild and crazy these days: drinking + camera phone + Facebook = no future, according to college students. (
NY Times
)
I don't know about you, but I could use a glass of wine right about now. Hey, don't judge me, it's for my health - according to this recent study, I'm lowering my risk of a stroke! (
NPR
)
Speaking of health, have you been keeping up with all the legislative attacks on women's reproductive health lately? Are you fed up and looking for a way to fight for your rights? Maybe you should join Team Uterati. (
Team Uterati
)
It's not easy being a woman. But it helps to know there are men out there like Chris O'Dowd and Jon Hamm who have our backs. Sexy, sexy men like them... that definitely helps. (
Women and Hollywood
)
Busy life got you feeling old and tired? This 101 year old woman just set a record for paragliding. Your argument is invalid. (
The Mary Sue
)
File this under "Say What?" That "Don't Re-Nig 2012" bumper sticker making the rounds of the internet is "not racist," according to its creator. (
The Sideshow
)
I can't get behind that woman's logic, but I can get behind this next link. Behold, the collective hatred of the internet for Lori from "The Walking Dead." She is just the WORST. (
Warming Glow
)
I love classical music like Beethoven's "Fur Elise." I also love beatboxing. This video is the best of both worlds.
Lastly, need a little help with your pick-up game (and I'm not talking basketball)? Let the masters Tom Haverford ("Parks & Recreation") and Schmidt ("New Girl") show you how it's done.
MelBivDevoe would love to sample Schmidt's cheese courses.